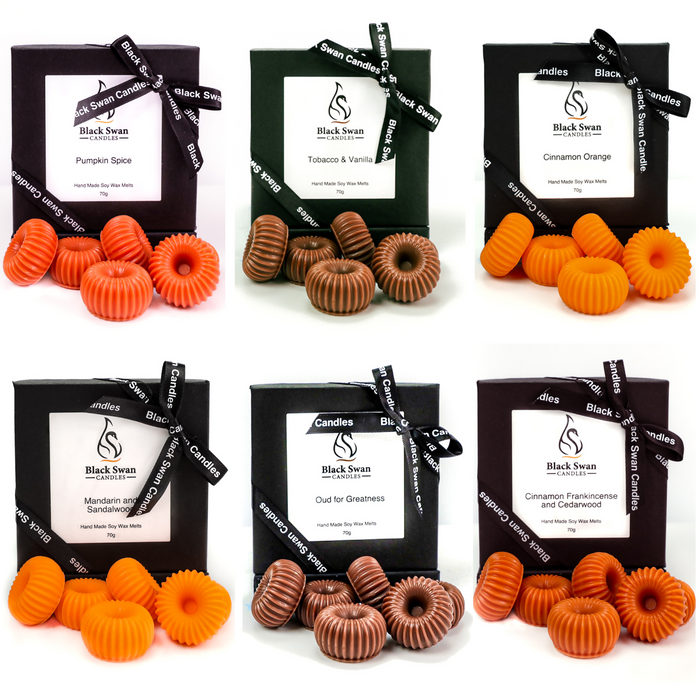 Autumn Scents - Wax Melts Bundle (6 Packs)
Original price
$45.09
-
Original price
$45.09
Availability:
in stock, ready to be shipped
Enjoy free delivery on orders over £25!
Elevate Your Space with Our Autumn Scents Wax Melts Bundle
Celebrate the enchantment of autumn with our 6-pack Autumn Scents Wax Melts Bundle. Each fragrance encapsulates the essence of the season, bringing warmth and richness to your space:
Pumpkin Spice: A rich, creamy pumpkin delight spiced with cinnamon, nutmeg, clove, and ginger.
Cinnamon Orange: Citrus notes of orange and tangerine mingle with spicy hints of cinnamon, ginger, and clove, finished with a touch of creamy vanilla.
Cinnamon, Frankincense & Cedarwood: A sultry and seductive blend of Cinnamon, Clove, and Myrrh enriched with intense Cedarwood, Amber, and Frankincense notes, creating a warm and inviting ambiance.
Mandarin and Sandalwood: Escape to the spa with this calming fragrance. Zesty mandarin harmonizes with soothing sandalwood, complemented by sweet florals.
Oud For Greatness: Immerse yourself in a mesmerizing blend of lavender, saffron, oud wood, and more, creating a truly captivating aroma.
Tobacco & Vanilla: Indulge in the blend of tobacco blossom, vanilla, and aromatic spices for a warm and comforting scent.
Directions of Use: Burn your wax melts for at least two hours at a time. Use one melt at a time for the best experience. Each melt can be used multiple times.

Ingredients: Our 100% soy wax is cruelty-free, vegan, and blended with fine fragrances.

Gift of Luxury: Ideal for Birthdays, Weddings, Valentine's, Christmas, and more.

Eco-Friendly Packaging: Our commitment to the environment is reflected in our 100% recyclable packaging.
Handmade Excellence: Hand-poured with care, our soy wax melts offer a strong, lasting scent.
Why Choose Our Bundle:
Save 16%: Enjoy a 16% savings compared to individual purchases.
Our Pledge
Handcrafted in the UK, Cruelty-Free, Eco-Friendly Packaging, Family-Owned, Premium Natural Ingredients.
Delivery time
1-3 Day Express & 2-4 Day Standard Delivery Options at Checkout.
Free shipping on all orders over £25.